Anywhere, anytime
Constant LTE connectivity
JRC Tactical LTE Box
As compactas soluções LTE da JRC foram desenvolvidas para prover suporte adaptado a comunicação de transportadoras, serviços emergenciais e empreendimentos industriais.  A JRC fornece moderno sistema, rede 4G de banda larga móvel, de acordo com o padrão 3GPP. Sistema de simples implementação, e com ferramentas avançadas como a "Quick Start-up", "full turn-key solution" e manutenção simplificada.

Lightweight ruggedize system
Operated independently and within an existing cellular wireless coverage
Supports several standard LTE frequencies and several bandwidth capacities
Suitable for both stationary and on the move implementations
Pre-equipped with applications such as TASSTA, Voice gateway to allow voice, video, text and file transfer capabilities
Ability to host the customer private application
Single box solution. EPC, eNode, Antenna e Battery in one unit
Features
Allows operators to start up quickly with minimum CAPEX, OPEX and scale it up according to the demand
From user terminal to billing system.
Simplest operation for WISP, Tier-2/3, small public safety operators.
Provides comprehensive system integration and RF planning.
Reduced CAPEX and OPEX thus Maximizing ROI.
LTE Frequency bands support
Several commercial and non-commercial bands including VHF band
Solutions for
Long term Evolution
Public safety and security forces have the difficult task of bringing order to chaos. Those First responders must be able to communicate during an emergency, reliably and without any security threats. Effective emergency and natural disaster management depends on the efficient mission critical voice and data communication between first responders and victims. Land mobile radio system (LMRS) is a legacy narrowband technology used for critical voice communications with limited use for data applications. The new Long Term Evolution  is a broadband communication technology that has the ability to transform the capabilities of public safety technologies by providing broadband, ubiquitous, and mission-critical voice and data support.
Long Term Evolution is the most advanced broadband communication technology widely spread. It has a coverage area 10 times larger than WIFI and 100 times larger than 3G, PMR / LMR (Tetra, P25).
LTE, also known as 4G, is widely used by citizens on Smartphone devices in their everyday lives. However such Public LTE Networks are not recommended for applications that require higher safety and reliability satandards, such as public safety applications.
Such applications require a higher standard of safety to guarantee the lives of people. The first 30 minutes of a fire or active shooter situation usually defines what the next several hours are going to be used for. During those first critical minutes, the first responders need a simple yet advanced communication system that connects with all the human resources that are involved or will be involved and most likely all of them will use cell phones. Those troops need an independent, reliable broadband wireless solution that allows voice, video and data transmission without dependency on any commercial resources. In these situations the private LTE solution of JRC is a better choice.
Public LTE x Private LTE
  A tecnologia LTE está presente em soluções comerciais de empresas de Telecom, mas utilizar essa solução pública em seu empreendimento  apresenta algumas desvantagens em relação a uma solução LTE privada. A tabela a seguir apresenta uma comparação entre uma rede LTE pública e privada.
 

Public LTE

Private LTE

Coverage

Country wide

Local / Closed

Users
> 1M

<10K

Size / Cost

Huge core, High cost

Small core, Low cost

Devices

Smartphone / Tablet comum

Smartphone / Tablet profissional

Sensor, Câmera de segurança

Applications

Chamada de voz, Acesso a Internet

Group calls, transmission,

Business Management, IOT
TASSTA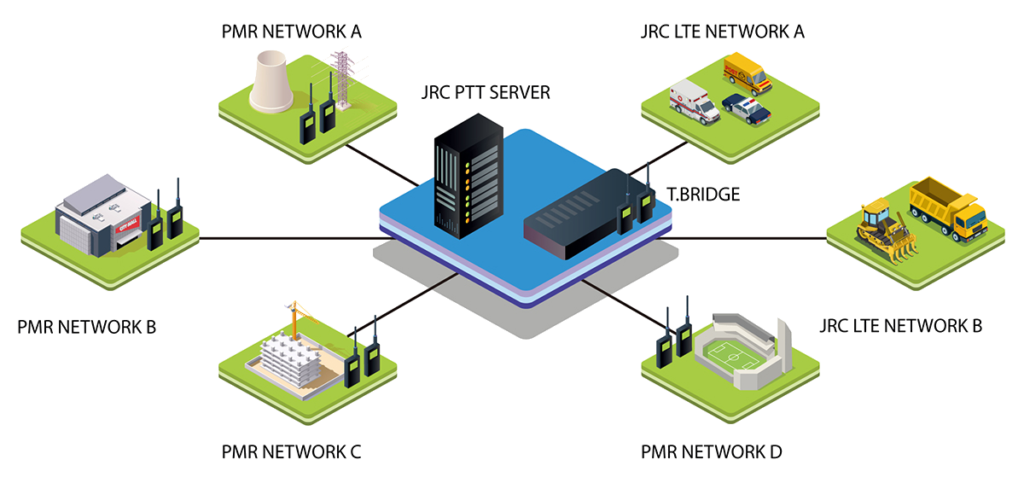 TASSTA offers a modern Push-To-Talk solution which makes use of all capabilities of a smarphone. Apps, such as FLEX, T.RODON, and T.BRIDGE, allow the users a complete package with individual calls, group calls, prioritization of calls, messages including data transfer, voice recording, GPS, tracking, alarms, and other solutions.
When connected to the private LTE network of JRC, users within range are no longer are limited by data or geographical limits.
Features
Excelent communication in different types of moble networks
Complete data and voice transfer package
Command and Control Central Unit

Despachante
Vizualization and tracking in real time
Defined geographical zones