Service & Maintenance Contracts
Our group of engineers have a robust background in the Preventive & Corrective Maintenance of all equipment on our portfolio. Our company group (JRC/Alphatron Marine/Pronav) has, therefore, decided to come together, and build a THREE (3) option contract to better take care, in essence, of your assets.
In each one of the TABS above, we have detailed for you, the below contract options, and how you can benefit from all of them. It will be handled by JRC Brasil, a company with experience in maintaining various brands. For the details about the equipment, visit our pages Products and Partnerships.
Our levels of Maintenance Contracts, are:
In case you are interested in downloading our Service Maintenance Contract brochure, and keep it for a further analysis, please feel free to do it. We hope you enjoy it, it is a good read.
Our starting point contract model, we gently call as
ENTREE MEMBER
, consists in providing a basic assistance, ensuring special agreements for clients that share their assests caring, with us. In this 1st stage of service contract, the member is provided with the support of our service coordinators for all activities in Brazil, as well as worldwide. Our company group JRC/Alphatron Marine/Pronav AS has a wide range of service engineers that can attend anywhere you wish. Our Centers of Excellence (CoE) that are present in America, Netherlands, Japan and Singapore, can ensure that you will not be left without assistance. Check out some of the details of this contract level that, although simple, has interesting advantages: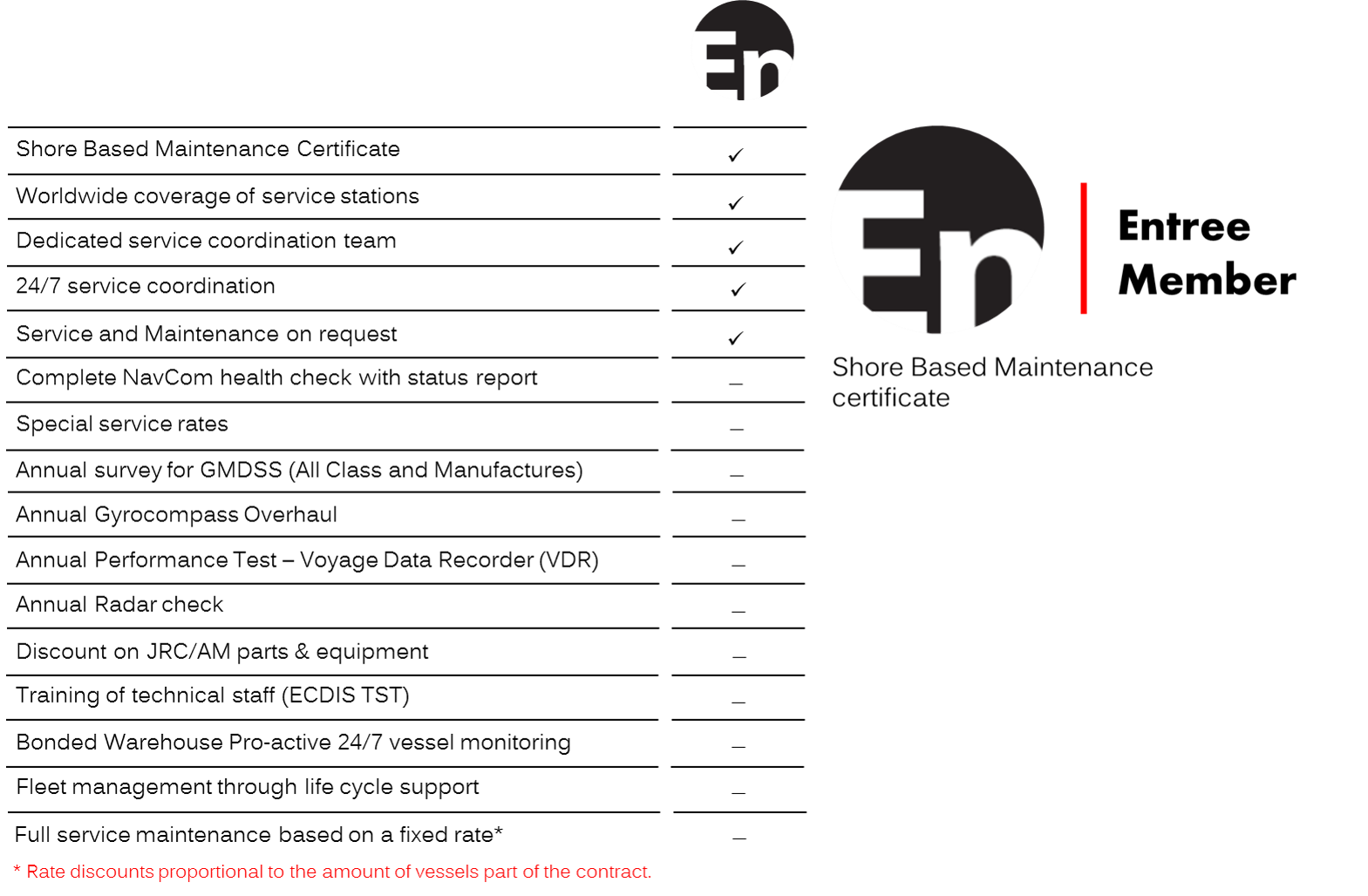 Our intermediate contract model, we gently call as
PREMIUM MEMBER
, consists in providing a basic assistance, ensuring special agreements for clients that share their assests caring, with us. In this stage of service contract, the member is provided with the support of our service coordinators for all activities in Brazil, as well as worldwide. Our company group JRC/Alphatron Marine/Pronav AS has a wide range of service engineers that can attend anywhere you wish. Our Centers of Excellence (CoE) that are present in America, Netherlands, Japan and Singapore, can ensure that you will not be left without assistance. Within this Contract model, we highlight the presence of all Annual Surveys (Radio, Gyrocompass, VDR & Radars), as well as the SBM Certificate, guaranteeing our technical capacity for any port in Brazil. To demonstrate our dedication to your assets, we also share with you the possibility of purchasing products straight from our Bonded Warehouse, from where we present very interesting prices. Check out some of the details of this contract level that, although considered intermediate, has wonderful advantages:

Our advanced contract model, we gently call as
EXECUTIVE MEMBER
, consists in providing a
COMPLETE
assistance, ensuring special agreements for clients that share their assests caring, with us. In this stage of service contract, the member is provided with the support of our service coordinators for all activities in Brazil, as well as worldwide. Our company group JRC/Alphatron Marine/Pronav AS has a wide range of service engineers that can attend anywhere you wish. Our Centers of Excellence (CoE) that are present in America, Netherlands, Japan and Singapore, can ensure that you will not be left without assistance. Finally with this Contract model, we highlight the presence of all Annual Surveys (Radio, Gyrocompass, VDR & Radars), as well as the SBM Certificate, guaranteeing our technical capacity for any port in Brazil. To demonstrate our dedication to your assets, we also share with you the possibility of purchasing products straight from our Bonded Warehouse, from where we present very interesting prices. Check out some of the details of this complete contract level, where the advantages are impressive: